The company
Duna Döner produces healthy kebabs for you made of ingredients according to EU Standards. All products come from selected Helal butcheries according to EU Standards.
This raw material undergoes strict hygiene control in all the production chain up to packing and storage and meets all freshness, taste and quality requirements to satisfy the consumers.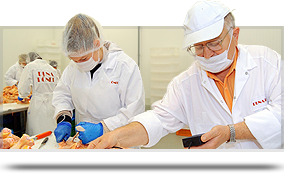 Duna Döner production was established in August 1999 in Makó / Hungary; its production area covers 3000m² in a new modern building in accordance with EU Standards.
Ever since its foundation the company ensures safety, customer proximity and work discipline. We make long-term plans and implement our visions into concrete programmes.
Production
The products are handled by trained and experienced butchers who divide the raw product in to desired types and sizes by means of conveyor belt.
Depending on the type of the animal it is cut coarsely to separate bacon, bones, veins etc. and forwarded for the next production line. At the last stage the products will be processed into desired prefinished and finished food.
Quality
Regardless of competition economics situation Duna Döner observes its own set policy to ensure high quality. Research and development are implemented with regard to customers' satisfaction and quality and under a constant consideration of ongoing development.
Hygiene
Our sensitivity to hygiene regulations for food production gains the highest rank and our company's philosophy allows for no compromises is this respect. We use the latest standards to guarantee air quality.
There is an air purification system extracting 10.000 m³ of stale air outside and supplying 25.000 m³ to circulate in the premises with an automated temperature control. As far as personal hygiene is concerned compliance with HACCP standards is strictly controlled by authorised agents. The personnel enter into the production area only after implementation of hygiene provisions at the hygiene barrier. The delivery is carried out by controlled and authorised refrigerated vehicles. After veterinary control the refrigerated goods are loaded into the vehicles without human contact by means of monoray crane and are promptly delivered to the cold store. Our own specially trained experts are carrying out laboratory tests before, while and after the production process. These tests include physical, chemical and microbiological control of food safety.
Equipment
All machinery and equipment used for production and logistics are renewed from time to time and are regularly maintained according to their specific type.
Our priorities are to live up to the social responsibility for our production and to keep each product with our label on it at the highest quality level.
Storage
As a preliminary step before storing the products are shock-frozen at temperature of -40° C and are then forwarded for storage at a temperature of -20°.
Afterwards the products are weighed by digital scales, labelled and are approved for delivery.
Distribution
The transportation is executed by our experienced employees in compliance with food logistics hygiene regulations within Austria as well as to Italy, Hungary, Slovenia and Czech Republic.
Our flexible logistics system enables to deliver our products to our clients safe and on time.